urban design competition: short-listed
location: Munich North-East, 2019/20
In cooperation with: Europa Frohwein, Thomas Hess, Peter Kühn, Imke Mumm, Julian Numberger, Max Ott, Julia Preschern, Werner Schührer, Andy Westner and Christian Zöhrer (Arge "Stadt der Vielen"). Further contributors: Nick Förster, Massimo Falconi, Sonja Schneider, Martin Mitterhofer, Sophie Schwarz, Omar Mekati, Eva Hermann.
The project is discussed in this article: Ott, Max. Kling, Norbert and Zöhrer, Christian [2020] City of the Many, in: The Urban Transcripts Journal, vol. 3, no. 3, Autumn 2020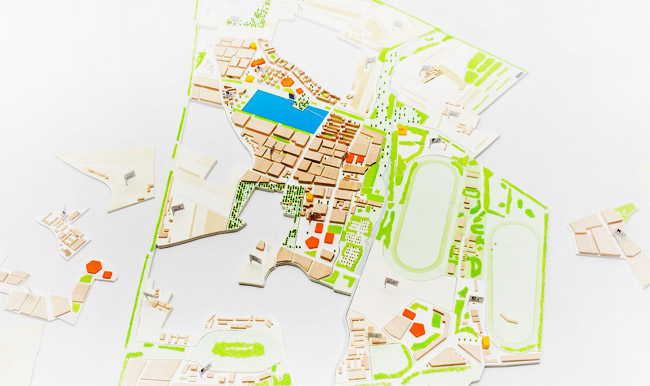 This ideas competition, held by the city of Munich, covers an area of 600ha in the north-east of the municipality. Based on an understanding of the city as common good, the proposal takes as a starting point the municipalisation of land on the basis of the existing 'SEM' urban development instrument and the implementation of a district-wide negotiated leasehold system. The proposal seeks to question the prevailing politics of 'urban development at whatever cost', suggesting that issues like urban inequality, long term affordability, participation, access to urban resources and the control of transformative processes should be placed at the centre of the debate.
The competition entry made it on the shortlist and the municipality commissioned the team to develop the project further. It was publicly exhibited in Munich's Isarforum in 2020.