artist collaborator: Rob Pyecroft-Rainbow
client: Bootstrap Company Ltd
location: Hackney, London 2010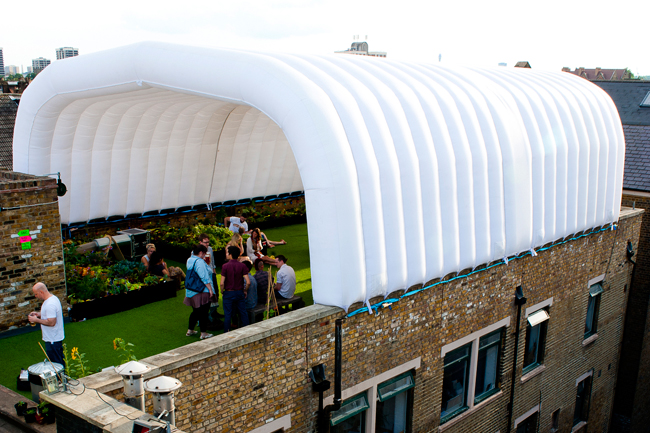 Dalston Roof Park is a public open space above a Victorian warehouse building in the heart of Dalston, London. It is a green space to relax, enjoy stunning views across the city and learn about cultivation of plants. A place of cultural exchange, a venue for performances, screenings and pop-up events. In short: A new "breed" of public space that promotes well-being wholeheartedly and attempts to "seed" the idea of a green space revolution, that will cultivate new green spaces in the city through bottom-up processes.
The project is still evolving and has been implemented in phases, that helped to include feed-back and consultation of everybody involved. Contributions in form of free grow-bags (Vital Earth), recycled materials (palettes) and a small grant (Capital Growth) for the seedlings were the essential ingredients to kick-start the initial process. The entrepreneurial aim is to generate income, that is invested back for further upgrades and an extended programme. The plants are looked after the by the 'garden collective', made up by building tenants and individuals of the wider community and is organised through a blog.
This project is part of our community-oriented engagement in Dalston, East London, which includes the Bootyard project and the Roofpark Charrette.