client: Bootstrap Charity
location: Hackney, London 2018/19
services: RIBA stages 0, 1-3, 4 (ongoing)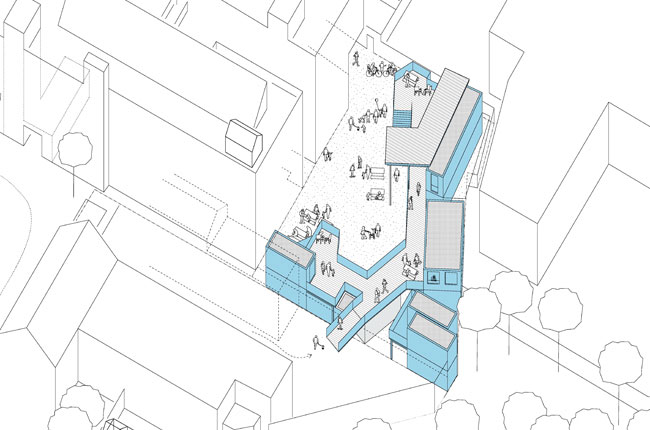 Following our research into alternative forms of spatial production across Dalston [Contested Porosities], Bootstrap Charity commissioned us to carry out a feasibility study about a back-yard, which forms part of the workspace portfolio they manage across Print House, Colourworks and Fitzroy House. We carefully analysed the industrial heritage context, spatial conditions and unique patterns of shared uses between a micro-brewery, a bakery and others as well as the public. Working closely together with the client and key tenants of the yard, we developed an adaptable mixed-use scheme that will provide more space and improved accessibility, both for commercial use and by the wider community. Key feature of the proposal is a raised walkway that provides generous access and gathering space to all upper units and connects the yard directly to Ashwin Street. Planning permission was granted in May 2019. The project is of temporary nature and is planned to be delivered in stages to minimise disruption to existing businesses.
This project is part of our community-oriented engagement in Dalston, East London, which includes the Dalston Roof Park project and the Roofpark Charrette.